Website Marketing: How will they find your needle?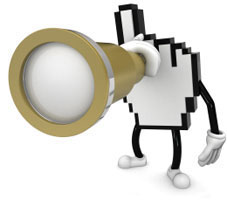 Once your new website is created, you will need to get it seen. The internet is getting bigger year on year and so are the number of users, so in this enormous haystack how do you think they will find your particular needle?
We make your needle easier to see by building our websites with Search Engine Optimisation in mind. All of our sites have in-built basic SEO making them visible to search engines from day one. This includes all relevant keywords, H1 Tags, Meta Tags and Meta Data added to optimise the sites for Search Engine ranking (if you choose our eCommerce package you will have the ability to add/change your own). We will also undertake submission of your site to all of the major Search Engines such as Google, Yahoo and Bing along with appropriate directories for your industry.
Google Places and Adwords
We can get you listed on Google's business directory – 'Google places' (formerly 'Google Local Business'), which can make you easier to find on Google search and gives your business a presence on Google Maps. Your listing can then be further enhanced with a company profile, video and/or images of your premises or products.
We can also target people who are actively searching for products or services in your sector by setting up a Google AdWords campaign, which enables you to control your marketing expenditure via its Cost-Per-Click (CPC) pricing structure. (This means you only pay when someone clicks on your ad).
How Adwords works

The advertiser (you) selects a number of keywords that will trigger the ads during a Google search. Then they choose a maximum amount that they are willing to pay 'per click'. When a keyword is used in someones search the advert will show on the right hand side of Google's search results page in the sponsored links column. The order and positions of the adverts depend upon the other advertisers bids and Google's quality score for the adverts within a given search. When someone then clicks on an advert the bid price for the keywords used in the search is then deducted from your daily budget. Once a budget is reached no ads will be shown, making it easy for you to keep track of your Adwords spend.
E-mail Marketing
This effective form of direct marketing uses e-mail (electronic mail) as a means of delivering your company's message or products straight to someone who has opted in to a mailing list via a website form. Our system uses the double opt-in method which means once someone has signed up via a simple form on your website they will then receive a confirmation email, giving you credibility and also ensuring that you stay the right side of any anti-spam legislation. Follow on emails can be set to be delivered to a schedule of your choice (daily, weekly or monthly) or you can choose to send individual newsletters or promotional emails as and when you wish. All follow on emails will contain a method of unsubscribing from your mailing list as prescribed in the Information Commissioner's Office Privacy and electronic communications guidelines.
Social Networking
Often overlooked but probably one of the most effective forms of marketing available if used correctly. We can set up customised Twitter pages which are integrated into your website and RSS feeds for your content which we can use to keep vistors coming back to your site again and again. Click here for more details about Social Networking.
There are many more ways to market your site online so contact us for more information on our advanced web marketing options.